Blog
Choosing ecological materials in furniture
In the search for much more sustainable alternatives, more and more people and companies are making the effort to choose ecological materials in all aspects of their lives, including their furniture. We specialise in the manufacturing of furniture from ecological materials for use in indoor and outdoor spaces. We understand the importance of offering our clients responsible solutions to furnish spaces, for both private and commercial use. In this article, we are going to explore the choice of ecological materials for furniture, presenting sustainable, environmentally-friendly alternatives.
The importance of ecological materials in contract furniture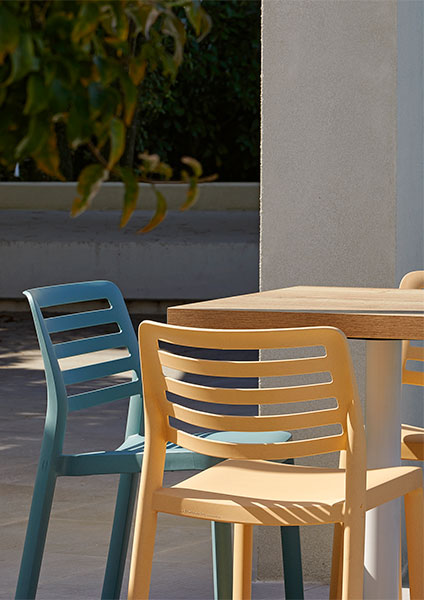 When it comes to furniture, ecological materials play a crucial role in reducing environmental impact. Opting for sustainable materials not only helps preserve the planet's natural resources but also contributes to the reduction of carbon emissions and prevention of pollution. In addition, ecological furniture is often manufactured using processes that are more efficient and less aggressive towards the environment, which makes them a responsible, ethical choice.
Ecological alternatives to propylene and newly-manufactured resin
Although propylene and synthetic resin are popular materials in the contract furniture industry, there are more sustainable alternatives that can offer the same aesthetic and functional benefits without compromising the environment. We present our alternative furniture made from post-consumption recycled polypropylene, Garbar Recycled, an ideal solution for establishments that wish to maintain the durability offered by new plastic furniture, but are looking for sustainable, viable manufacturing alternatives. In using recycled plastic, the amount of waste that ends up at the rubbish tip is reduced, promoting circular economy.
Our designs made from ecological materials stand out on the furniture market as they are:
Furniture made from post-consumption recycled plastic
100% recycled and 100% recyclable furniture
Hard-wearing, functional products
Designer pieces
Aspects to bear in mind regarding ecological materials for sustainable furniture
In addition to choosing the appropriate materials, there are other considerations that should be taken into account to select ecological furniture, especially for an establishment:
Durability: Opting for quality, durable furniture ensures a longer useful life and avoids the need for frequent replacement, thus reducing waste.
Proximity: Giving preference to local and regional suppliers can reduce the carbon footprint associated with the transportation of the furniture.
Sustainable manufacturing processes: Investigating and choosing manufacturers committed to sustainable, environmentally-friendly manufacturing practices guarantees that the whole life cycle of the furniture will be responsible.
We are committed to forming part of this change the furniture industry needs. That's why we've designed a new line of contract and functional furniture using ecological, sustainable methods. Some of our most prominent products that are ideal for furnishing indoor and outdoor spaces are our tables and chairs made 100% sustainably from post-consumption recycled plastic.
Such as our Wind Recycled chair and Play Recycled chairs, for example, the brand's own designs made from 100% recycled plastic. They have the same strength and durability as their original versions made of new plastic. Novel alternatives to offer clients the convenience they need in the service, promoting environmentally-responsible, sustainable consumption. In our catalogue you'll also find ideal solutions to furnish gardens and patios, such as our Baku+Monaco Recycled Set, for example. A garden set comprising two armchairs and a small table, ideal to create a welcoming, pleasant space with the ecological version of the same quality furniture. We also have sustainable solutions for the littlest ones. Our Jan Recycled Chair and Julieta Recycled Table make the perfect combination to provide a safe space for games adapted to children's needs. All of this with 100% sustainable manufacturing and being 100% recyclable, contributing to the reduction of the environmental impact of environments like schools, nurseries, play centres and spaces set up for child development and care.
Sustainable furniture solutions in Spain
In choosing ecological materials for furniture for communal spaces, you can mark the difference and promote a sustainable lifestyle in your businesses. Opting for alternatives like recycled plastic allows you to create aesthetic, functional spaces without compromising the planet's natural resources. At the same time, it is important to consider durability and sustainable manufacturing processes to guarantee a responsible choice throughout the life cycle of the furniture.
If you are looking for sustainable furniture solutions, at Garbar you'll find a wide range of designs and pieces to furnish unique, original spaces and thus contribute to caring for the planet without the need to compromise your budget.
We offer solutions and alternatives to suit the needs of each space. Don't hesitate to take a look at our product catalogue to find the best solution for your needs. We are also at your disposal to design a solution to meet your needs.