Blog
Garbar participate in Spoga Gafa 2023
Garbar by Resol to participate in Spoga Gafa 2023, Europe's largest garden furniture event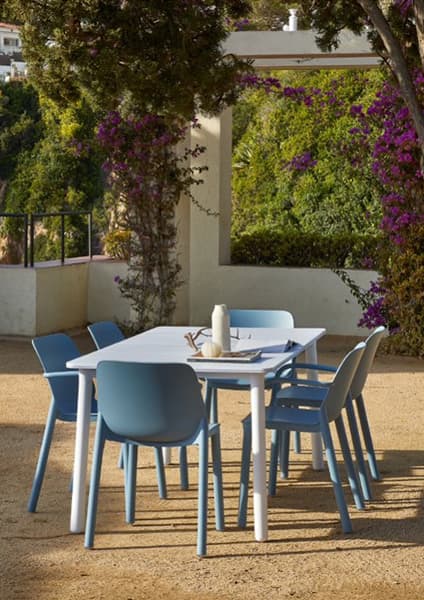 Garbar by Resol, a brand specialising in outdoor furniture, has a new date marked on its calendar. We're talking about its participation in the largest European fair dedicated to garden furniture: Spoga Gafa. The fair will take place in the German city of Cologne from the 18th to the 20th of June. The stand will be in the same location as during last year's edition, C30-D31 in Hall 11.1.
Smarten up your garden with Garbar solutions
Garbar will be exhibiting different solutions to smarten up your garden with hard-wearing furniture designed for outdoors. For example, the Olot recycled table, like the one you can see in the photo, will be on display. The aesthetics of the brand's furniture is closely linked to its origins, the Mediterranean, which is why the stand has been designed based on this inspiration. The choice of the catalogue's new items follows the same criteria. Another set you'll be able to see in Cologne is a Noa table set with One chairs, the perfect combination to furnish outdoor spaces.
Garbar is committed to recycled furniture
Garbar by Resol has a clear focus on sustainability. Many of the collections are made from post-consumer or post-industrial polypropylene. For example, there's the Baku set, comprising two armchairs and a table, the recycled version of which is available in two trendy colours: desert sand and volcanic grey. These sets will also be on display in Cologne. Other options using recycled polypropylene that you'll be able to see at our stand at Spoga Gafa are the Palma, Cool and Delta armchairs, as well as our Wind chairs, which you can see in the photograph below.
Furniture for the little ones
Garbar also offers a range of children's furniture for outdoors or indoors. The Jan set of chairs and tables is ideal for little ones to carry out their activities comfortably. Additionally, the table is designed and developed from a technical perspective so they can draw on the tabletop with white board pens and this can then be wiped off easily.
Garbar loungers: comfort and durability
At Spoga Gafa, we'll also be presenting the best-seller lounger models the brand offers in its catalogue and which stand out for their comfort and durability. We're talking about the Acqua, Marina and Master models, the latter with a compartment with a cover and padlock to store your phone and keys.
--
Marta Queralt
Global Communication Manager
Tel. (+34) 972 69 47 00 - Ext: 352
Mob. (+34) 620 59 01 60