Blog
How to choose a parasol for a bar terrace
In Spain the bar terrace parasol is essential all year round thanks to the climate we enjoy on the peninsula with a large number of sunny days. That's why in today's post, we're going to help you to choose the ideal bar terrace parasol for your business. Take note of these recommendations!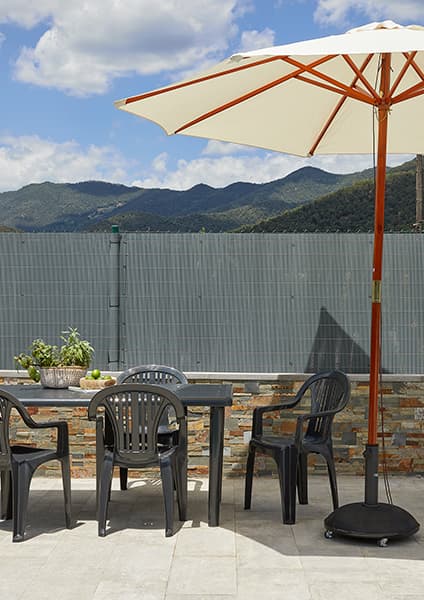 What should you bear in mind before choosing the ideal parasol for a bar terrace?
In order to create a welcoming, attractive atmosphere for customers, it's important to furnish your terrace with all the necessary elements to offer them excellent service, such as comfortable tables and chairs for example, with authentic designs, in addition to the arrangement of parasols to offer shade on very hot days and give outdoor spaces an original, unique touch.
There are some general aspects to bear in mind to make the best choice for a terrace or garden, such as the size, strength and durability for example, the closing and opening mechanisms and last but not least, the style and design. Other much more aesthetic aspects, such as having a lighting system integrated into the structure to light up at night for example, can also be taken into account.
Before choosing, it's important to be aware of the types of parasol available on the market to choose the most appropriate solution to offer your customers the comfort they need. Some of the market's most common bar terrace parasol models that are ideal for any type of hospitality or hotel-related business are mentioned below.
Types of parasol for bar terraces
For a parasol with a central mast you have our square 4x40 Parasol A2 4X4m. A practical, simple model comprising fabric and a mast made of a single piece of aluminium. The ideal option for large areas requiring practical solutions to give your customers the best service.
Parasols with a side or eccentric mast are an excellent alternative to create a much more distinctive and elegant atmosphere. They are designed so that the mast is on one side. Our La2 ø3.5m parasol model is ideal to place next to sun loungers or garden sets to create the perfect, pleasant atmosphere to enjoy the outdoors.
Canopies are also ideal sun shades to offer a warm shadow outdoors. They are an excellent alternative to create outdoor dining areas with a much more refined, sophisticated atmosphere. Our 4x3m Canopy is an excellent option if this is the style you want for your gardens, terraces and patios.
Another of the most sought-after options on the market is height-adjustable bar terrace parasols, designed to adjust to the service needs and depending on the type of shade you want to give. Our Costa ø2m parasol has an easy-to-use, practical height adjustable system to adjust the height easily, in addition to its exquisite design.
Professional parasols for terraces
At Garbar we specialise in the production, sale and distribution of a large range of designer furniture for indoors and outdoors. We have an extensive catalogue of parasols from which you can choose those that best suit your business and the needs of your customers.