Blog
Wooden furniture: Classical? No, trendy!
Do you think wooden furniture is boring and lacking in appeal? Actually, forget the passage of time and the changing habits and styles; decorating with wood is all about creating a cosy, warm, natural and pleasant space, the kind that makes you feel good. Do you need more reasons to include it in the decoration of your home? By the time you've finished reading this post, you're sure to have changed your mind.
Why decorate with wood?
Due to its character and significance, there are endless reasons why wood should constitute a chief element of your decoration. Traditionally it's been one of the materials most often used in furniture design, and that might make you think again. However, neither the passage of time nor the development of new technologies have been able to lessen its prominence in the world of decoration; wood's a must!  
Another undoubted benefit of wooden furniture is that it's very cosy and it makes you feel good. For example, a long solid wood table and some beautiful beach chairs will make you want to sit down and enjoy your time with your family and friends.
Are wood and the latest trends in decoration adversaries? 
Nowadays wooden furniture provides us with numerous possibilities. The passage of time and the evolution of the new technologies have led to the creation of different finishes, lines, materials and shades, so when you think of wood, your grandmother's furniture shouldn't necessarily come to mind. Wood is reinvented season after season and is, in fact, always among the latest decorative trends.
One example of a modern and wooden piece is our Everest chairs. Look at the image: a single model finished in oak or walnut can have two completely different impacts on your ambiance. If you use oak, you'll create a natural and cosy atmosphere in which you're sure to feel at ease. Conversely, if you opt for walnut, the decoration will take on a sophisticated and elegant air that's highly recommendable if you want to create a sober but stylish setting.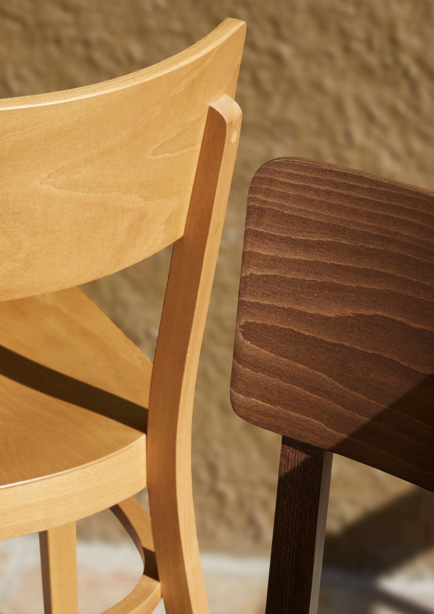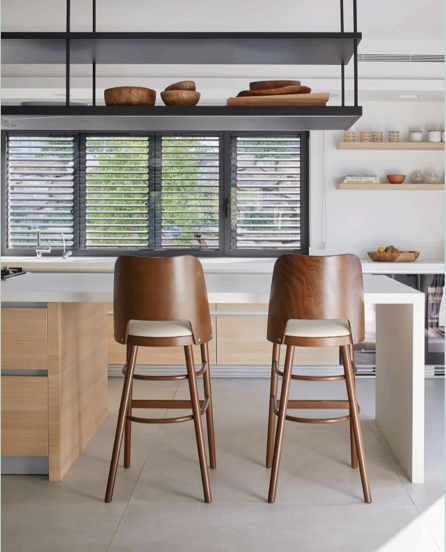 Are you looking for a material capable of adapting to any style? Very few elements can be integrated as naturally as wood. It's ideal if you want to create a warm reading corner in the living room, but also for giving character to the dining room or a natural touch to the kitchen.
Do you have a modern space with metallic finishes? The different finishes will allow you to blend the straight and modern lines of your kitchen furniture with the more classical touch of walnut stools. If you take a look at this set, you'll see that our Aneto stool definitely fits to perfection into any environment.
Are you looking for a material that's both simple and elegant?
Another reason why wood can provide you with an infinite number of options is that it's a simple material. However, it also has a great deal of presence and a personality of his own. You'll have noticed that it doesn't need many accessories or decorative elements. Wooden furniture is capable of shining with its own light and it's very elegant.
Wood is able to turn a functional piece of furniture such as a chair into a true work of craftsmanship!  Our Fuji chairs have outstanding simplicity but, in turn, majesty in their design. Moreover, their particular style doesn't clash with the comfort required of a chair, because what's more important than a chair being comfortable to sit on?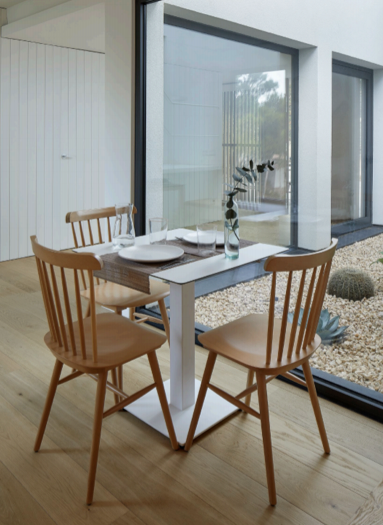 Are you green? Then wood's just for you
Last but not least, consider that by opting for wooden furniture you'll contribute to creating a more sustainable future. Wooden furniture has a longer useful life and is 100% recyclable.
Natural products, with their minimal ecological footprint, have ceased being a simple trend and become a way of understanding the world.
More and more people are adopting a sustainable lifestyle, which includes decorating their lives. For this reason wood hasn't just remained in style in recent years, it's been crowned as an essential.
In short, wooden furniture is a classic that's always reinventing itself, thus achieving a well-deserved and prominent position among the latest trends. If you choose this material, you'll be following the current trend but also ensuring that your furniture doesn't go out of fashion in the future!