Blog
Garbar takes part in the SPOGA+GAFA 2022 fair
Garbar is participating in the SPOGA+GAFA fair to present a fresh, Mediterranean style with its products at its own stand (C30-D31) located in Hall 11.1.
The SPOGA+GAFA fair is an international leader in products devoted to gardening and free time. This year's main focus is sustainability.
From 19 to 21 June, Garbar will be taking part in the latest edition of the SPOGA+GAFA in the German city of Cologne. It is one of the largest international fairs devoted to the gardening and free time sector. The fair will bring together exhibitions displaying everything from the latest in furniture for outdoors to a variety of outdoor recreational settings, such as the design of grills and barbecues, outdoor lighting and plants for gardens. 
Sustainability as key player at the Garbar stand
At this latest edition, Garbar is lucky enough to be exhibiting at its own 157.5 square-metre stand, where a sample of the most outstanding products in outdoor furniture will be displayed. 
Garbar presents itself at the fair as a brand belonging to the Resol group, focused on offering products with a fresh, Mediterranean style to recreate pleasant outdoor settings. Among the outdoor furniture to be exhibited at the fair, we would like to highlight the sample of offers for different settings: from sunloungers and parasols for swimming pools, taking in table and chair sets for gardens and terraces, to children's furniture, among others of the brand's most outstanding products.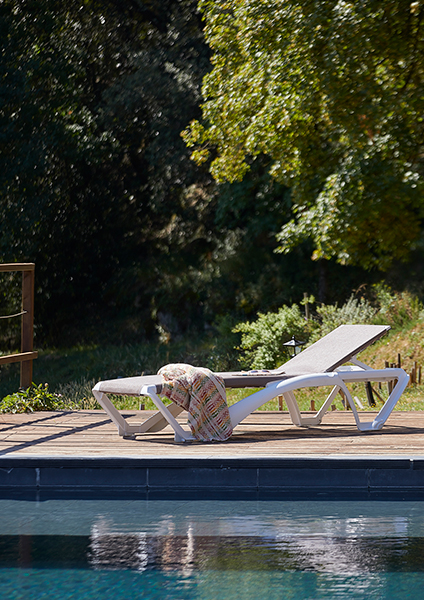 The Garbar Recycled line will play a special leading role in the exhibition. Following the fair's main theme, the intention is to promote the brand's commitment to manufacturing furniture made using post-consumer plastic, thus encouraging a circular and sustainable economy.
Leading international fair in free time and gardening
SPOGA+GAFA is the leading international fair devoted to free time and gardening, and has been held biannually since 1973. This year's 2022 edition will be attended by over 1,000 exhibitors, and thousands of visiting professionals from all over the world are expected. The fair will provide a meeting place for interaction between exhibitors and visitors to establish new contacts and discover the latest developments in the business.
The venue will be divided into 5 segments that will cover everything from the most exclusive brands in the garden furniture sector, taking in the latest products for outdoor kitchens, as well as plants and lighting. As we have already said, this year's edition will especially focus on sustainability and the commitment to care for the environment. 
We at Garbar place great value on our participation in the fair as a new opportunity to show our work to all those interested in innovation in the garden industry. The SPOGA+GAFA fair presents us with a unique venue to highlight our commitment to sustainable quality furniture.
Finally, we would like to remind you that if you're planning to attend the fair, you can purchase tickets online in the SPOGA+GAFA website. And if you'd like to be kept up to date on everything happening at the fair, we recommend you follow us in the social networks so that you don't miss anything. If you're interested in solutions for outdoor furniture, we encourage you to check out our garden sets.