Blog
How to choose a coffee table
Coffee tables are an excellent alternative to pair with sofas and armchairs, as well as outdoor loungers. They help to add personality to a room and offer an extra place to put objects on. Today's post will help you choose a coffee table.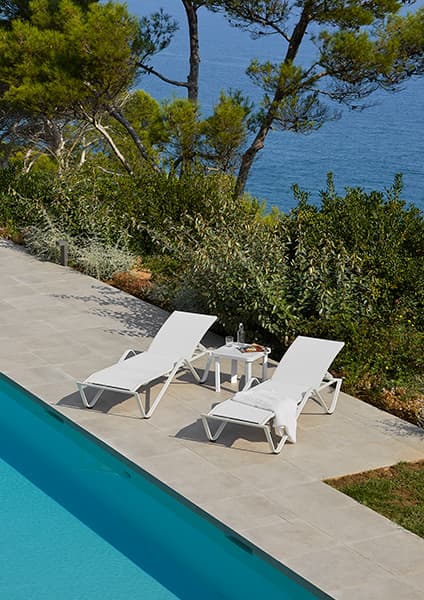 Types of design coffee tables
While there are a wide variety of coffee tables on the market, below are some of the styles most acclaimed by interior designers:
Modern coffee tables are a much simpler and more functional alternative. They are usually made from materials such as glass, wood or metal. They are ideal if you want to provide spatiality and simplicity to a room.
Nordic style coffee tables are made from light wood and may be accompanied with white details. This style is for anyone looking for a much more elegant and natural solution.
Industrial style coffee table
Industrial style coffee tables are mainly characterised by the combination of materials, such as wood in dark tones together with iron or steel structures. They are an alternative with a lot of personality thanks to the details provided by their forged elements in contrast to the wood.
Mini coffee table
Mini coffee tables are ideal to give a final touch to a waiting room next to a couple of armchairs, to pair with a sofa in a living room or ideal in a reading corner, to create chillout areas and relaxed environments as well as the perfect support to place a cup of coffee or tea, books and magazines, decorations or simply to add atmosphere to a room. You can find mini coffee tables that combine functionality and design in Garbar's catalogue. Some of our most prominent models of coffee table include:
The Phenolic Compact Ø110 table- Tapies XL Ø66 base available in different shades. Ideal for both indoor and outdoor use. Its design is a very functional alternative, as well as being light whenever necessary.
The Jazmin Ø100 table made mainly of polypropylene, is an ideal piece for outdoor use. It also has a gap to place a sun umbrella if necessary.
The Hamlet 74 table is a perfect alternative to bring camping, a folding coffee table made from polyethylene with a painted steel structure. This model is very easy to transport.
The Andorra table is a model designed mainly for outdoor use thanks to its main composition, polypropylene, and its extra layer of UV protection making it much more resistant to inclement weather.
What is the ideal height for a coffee table?
The ideal height for a coffee table should be around 60 cm in height. Its height should be of a similar height to the sofa or the armchairs it is paired with. Also important to bear in mind is that its width should not be larger than the width of the accompanying sofa and there should be sufficient space available in its surroundings to be able to walk around it without tripping over it.
Purchasing your coffee table
Garbar has just the coffee table you are looking for to give any room that unique touch. We have different models ideal for use both indoors and outdoors. Do not hesitate to take a look at our catalogue!