Blog
What is a phenolic board?
Phenolic boards have become one of the most acclaimed solutions by builders and furniture manufacturers. Today's post is going to explain what a phenolic board is and its main features.
What is a phenolic board?
A phenolic board is a sheet manufactured from phenolic resin and cellulose sheets pressed at a very high temperature and pressure, creating a highly resistant and versatile material that can be used in a range of construction and furniture manufacturing settings.
Main features of a phenolic board
Phenolic board stands out for its features that have made it one of the most acclaimed materials today for designing solutions in the domestic, urban, commercial, services, automotive and many other sectors.
Here are some of the main features of phenolic boards:
Its manufacturing process means that it is fireproof and water-resistant material, resistant to moisture and steam as well as preventing the rapid spread of fire.
It is resistant to wear, weather and bangs. Highly scratch-proof material.
Due to its high-pressure manufacturing process, its low-porosity material allows it to be dirt repellent and highly antibacterial.
Phenolic boards are easy to maintain, very resistant to chemicals and cleaning.
Phenolic boards can be created with a wide variety of finishes and colours during manufacture.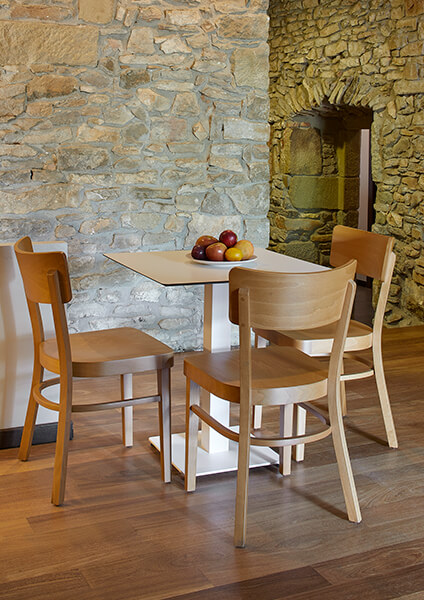 Types of phenolic boards
There are currently two main types of phenolic boards used in the construction sector and in the design of furniture for large areas. Phenolic compact boards (HPL) are made from agglutinated paper and phenolic resin, while phenolic plywood boards are made from pressed wood plywood together with phenolic resin. The latter one requires a perimeter seal for outdoor use for greater permeability.
Find out about Garbar's phenolic compact boards
We at Garbar are experts in both indoor and outdoor furniture. If what you are looking for is a phenolic compact board for any type of solution for catering, hotel or domestic use, we can help you find what you are looking for.
We have phenolic compact tables with their respective stands in a wide variety of models, such as round tables, like our Ø60 Phenolic Compact Table model or the Ø80 Phenolic Compact Table with Ø40 Tapies stand, square tables such as our 70x70 Phenolic Compact Table with a Goya Stand model, or rectangular style such as our 120x80 Phenolic Compact Table Double High Tapies stand model or the version, among many more models. Perfect tables for indoor and outdoor use. They go with any type of chair according to the requirements of the space. Our products are carefully selected to meet the needs of any sector focused on services.
Our catalogue contains phenolic compact panels in different designs and finishes. Our phenolic compact panels are available in white, black and silver, and finishes in washed wood, ash oak and natural oak. We can also tailor make them any other type of colour upon request. Find the phenolic board and table stand you are looking for in our catalogue. Do not hesitate to contact our team to let them offer you a solution tailored to your needs.