Blog
Furniture measurements for children
Children's rooms require a specific type of children's furniture to meet their needs. Therefore, it is important to know the measurements of furniture for children when making your choice. In this post, you will find out everything you need to know before choosing the ideal children's furniture for your home, playroom or nursery school. 
Furniture measurements for children
Ideal measurements must meet the needs of your little ones. The furniture must be suitable for their height, offering them maximum comfort and enough space to be able to have fun. 
Worth noting is how important furniture for children is to help their psychomotor development, in addition to being an important space where they can learn safely and comfortably. Therefore, a very high table or a very short chair can be uncomfortable for small children, depending on their age and height, when they are using children's furniture. Here are the most recommended measurements of furniture for children. 
Desk measurements 
Desk measurements vary according to the age of the children to whom they are intended. For example, 40 cm high tables are recommended for very small children between 1 and 2 years of age. For children over the age of 3 or 4 years, tables with a height of 53 cm should be considered. Tables around 60 cm will be the best alternative for preschool-aged children between 4 and 6 years of age to offer them the height and support they need.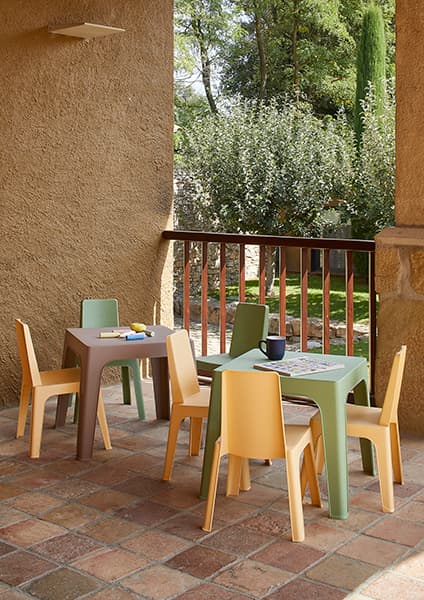 Chair measurements
Chairs are also very important in playrooms or classrooms. They must be comfortable, stable and provide the right height for the little ones to allow their feet to touch the ground and for them to feel comfortable and safe. According to experts, child seats for kids up to 2 years of age should no higher than 21 cm from the chair base relative to the floor. For children between 3 and 5 years old, the chair should be around 31 cm high. The height should range from 35 cm to 40 cm for children aged 5 to 8 from the chair base relative to the floor. 
It is important to take into account the height of the chair when choosing the table so that the two pieces fit properly and for it to be the right height for kids, in addition to the necessary space to fit their legs under the table.
Buying furniture for children
We at Garbar are experts in the manufacture of high-quality resin and polypropylene furniture ideal for furnishing children's spaces. Our children's chairs and tables are an excellent option thanks to how resistant their materials are. Our parts are made from materials that are easy to maintain and very easy to keep clean.
You can find our Jan chair along with the Jan table, ideal for older kids between 8 and 10 years old. You can also find the Rita chair with arms and its Rita table as a set, a much more creative and original alternative to furnish children's rooms. 
At Garbar, we are also aware of the changes in plastic consumption that the planet needs. Therefore, we have designed some of our pre-school furniture pieces in the Garbar Recycled range, such as the Julieta chair, made from recycled polypropylene, which can be combined with the Julieta table - an excellent alternative to furnish children's rooms with the environment in mind.
All our children's furniture products are available in a wide variety of colours so you can create the most fun combinations of children's chairs and tables to make each child's room unique and special. Do not hesitate to take a look at our catalogue and find the children's furniture you are looking for. 
If you would like to find more about preschool furniture, we recommend taking a look at our previous post Nursery Furniture